No harsh chemicals or untested ingredients. Our clinically-proven KitavaMD acne skincare formulas are up to 99% naturally-derived.
DESIGNED BY DOCTORS
POWERED BY NATURE
PROVEN IN LABS

KitavaMD is a dermatologist-founded skincare line that offers naturally-derived alternatives for clear, healthy skin. We tap into an experienced network of doctors, researchers and biochemists to create uniquely specialized formulas that are highly effective, yet still safe and gentle on your skin.
Scientifically-supported formulas
Years of R&D and decades of patient care incorporate the best strategies that current medicine has to offer
naturally-derived ingredients
Vegan, cruelty-free natural ingredients comprise up to 99% of the total formula
independent 3rd party lab testing
Proven safe and effective through independently run clinical trials and safety and stability testing
"During independent clinical trials, 88% said their skin looked and felt better using KitavaMD, and 70% saw less breakouts within 2 weeks*"
*Individual results may vary.
SAY GOODBYE TO HARMFUL CHEMICALS
There are a lot of shortcuts and cheap alternatives to treating acne - we've avoided them all. In order to both safely and effectively treat acne, we've spent years sourcing the highest quality natural ingredients on the planet.
An eight-week independent IRB-approved clinical trial showed that our treatment either matched or exceeded the results from trials for prescription medications. The feedback from the actual trial participants was overwhelmingly positive, with 86% of users willing to recommend it to a friend. Additionally, more than two-thirds of users saying it was the absolute best acne skincare regimen they had ever used.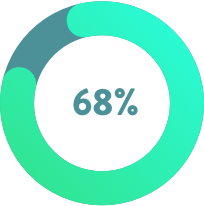 This is the most effective acne skincare regimen I have used

"We wanted to create an effective natural alternative for when prescriptions weren't an option."
Stanford Acne Specialty Clinic
Emory, Mt. Sinai, Stanford

Presidio Dermatology

Mt. Sinai, Stanford, Columbia, UCSF